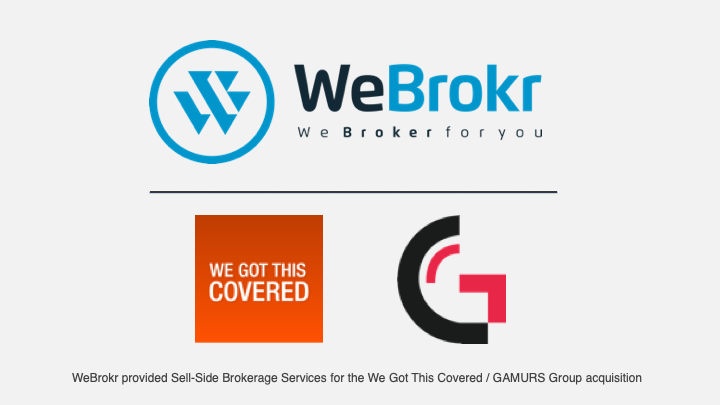 WeBrokr is pleased to announce that WeGotThisCovered.com has been successfully acquired by GAMURS Group. We Got This Covered, also known as WGTC, was founded by Matt Joseph in 2010 as a college passion-project. WGTC has grown exponentially over the years to become one of the leading entertainment properties in the world, bringing in over 16 million Sessions in May 2021.
WeBrokr worked directly with Matt Joseph, the Founder of We Got This Covered, on this listing. Matt valued absolute discretion on the acquisition of his company, and WeBrokr was able to accommodate his request by proceeding with a strictly Private / Confidential Sell-Side Listing. Private Listings are just one of the many nuanced features that WeBrokr is able to provide for our clients.
Matt Joseph was happy to share the following about his experience working with Logan Abner, Founder & CEO of WeBrokr:
"After 11 years, I decided to sell We Got This Covered and am happy that I was able to connect with Logan and the team at WeBrokr, who assisted in the process. He was able to help prepare the necessary documents, financials, presentations and more to present to potential buyers, and connect me with a wide range of companies who were interested. He effectively managed everything that came along with the sale and brought in multiple offers, ultimately leading to the one we went with which resulted in a successful transaction for all parties."
GAMURS Group CEO Riad Chikhani says the acquisition serves as a major stepping stone for the company's goal of redefining gaming and entertainment media.
"Gaming, TV, and film entertainment continue to become increasingly intertwined. We see, for example, Thanos skins in Fortnite, esports events reaching more broadcast channels, and countless other developments. By adding We Got This Covered to our media portfolio, it affords us the opportunity to not simply cover this growing intersection of gaming and entertainment from the lens of gaming, but from the lens of culture, TV, and film," Chikhani said.